Wednesday 3rd April – Sophie's Birthday
To celebrate Sophie's birthday, we spent a gorgeous afternoon in Epcot drinking in (most of) the countries around the World Showcase. We gave ourselves the mission of having a group photo in every country and we made it to over halfway before we forgot/ gave up.
If you don't know Epcot, here is a map of World Showcase for reference… you're welcome.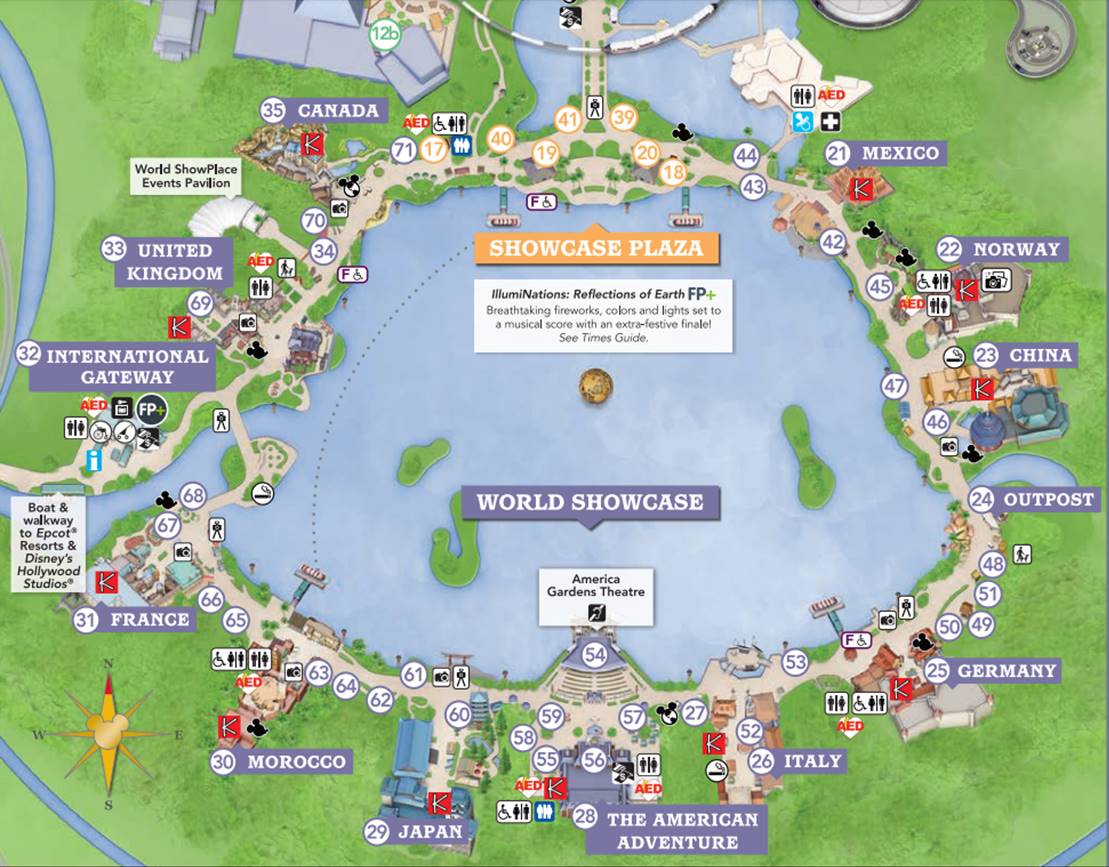 We started off in Canada then we obviously had to stop at the pub in the UK! We even managed to have a little detour to Christopher Robin's room as a little birthday surprise, as it's not open to the public anymore. We stopped to meet Ariel and Eric who were randomly meeting by International Gateway on the way to France. We didn't have a drink in every country but it was so nice to be able to tick off some of the drinks that I'd wanted to try for a while.
We had a rest stop in Italy which is my favourite place for drinks… peach moscato, anyone?! By this point we were feeling quite tired and it was getting late so we quickly covered the rest of the countries (hence no more group photos) and went on Test Track to finish off. It was such a fun day!
---
Thursday 4th April – Date Night
I didn't really do anything today. I spent a few hours by the pool and spoke to my Dad & step-mum Mel ahead of their arrival on Saturday… eeek!!! Then my brother phoned me and we spoke for ages, mainly getting excited for Disney; we don't talk on the phone much so it was really nice.
In the evening, Elin and I went for dinner at Trail's End to spend a bit of time together before I went to stay with my family while they're here. It's an all-you-can-eat buffet and is one of my favourites on Disney property; they have the most delicious corn-baked salmon! Yasssss.
Feeling very full, we left to see the water parade going across the lagoon so we walked down the beach to watch. We got chatting to two older ladies with dogs and I got to pet them. More yaaaasssss.
---
Saturday 6th April – Dad Arrives!
Today marks the day I have been in Orlando for 6 months exactly… and it's the day my Dad, step-mum and brother arrive! My other brother is flying out on Monday because he had an important rugby game to play in (I'm sure he would like me to tell you that this was the last game of the season, they won the league and are being promoted… did I get that right Matt?).
I woke up really early because I was so excited, went to get my hair cut then came home to pack. Soon enough it was time to go to the airport! Unfortunately, I had to wait a very long time because it was so busy and apparently Passport Control was horrendous. I made a friend and got chatting to someone who was waiting for the same flight, so at least I knew I was in the right place.
They were eventually through and we were reunited! After an obligatory picture with the Disney wall, we got the car and drove to our hotel. I say hotel, we had an actual house with a hot tub! It was beautiful and had everything we needed. We walked down to the clubhouse to get some food, had a few drinks and played pool. I'm so happy they're here… I've been waiting 6 months for this!
---
Sunday 7th April – Epcot
As my other brother wasn't arriving until tomorrow, we couldn't go to the Magic Kingdom without him! We had a day in Epcot instead and, as Mel hasn't been to Walt Disney World before, we thought this would be a good way to ease her in to the overwhelming enormity of Disney!
We got pretty much everything done throughout the day; rides, shows and wandering around the World Showcase. We went to the Rose and Crown for dinner and Roma was our server. It was an amazing meal and we had the most perfect table to sit and watch the fireworks from. As I see this show nearly every night, I mainly watched everyone else as I love seeing their reactions. Especially Mel, as this was her first experience of Disney fireworks.
It was a great first day and I'm looking forward to welcoming my other brother tomorrow!
L x